621 pedophiles read Wunderman Thompson's advert for Stop it Now!
Antwerp - August 8, 2022
"621 pedophiles read this newspaper. And we want to keep it that way." This is the striking headline that Stop it Now!, One of the twenty non-profit organizations nominated for the Solidarity Prize, is placing above a full-page advert in De Standaard newspaper on 8 August.
With the advert, Stop it Now!, the helpline for people who are alarmed at their sexual feelings towards minors, aims to break the taboo surrounding pedophilia. Because 1% of the male population struggles with feelings of a pedophile nature but the lion's share never commit a criminal offence. In other words, pedophiles are not necessarily child abusers and the organization aims to keep it this way by sparking a public debate on the issue. The advert was created by Wunderman Thompson Antwerp.
Quick reminder: the two winners of the competition will be announced in September following a vote among the readers and a panel of experts. Both winners can take out two additional full-page adverts in De Standaard later this year.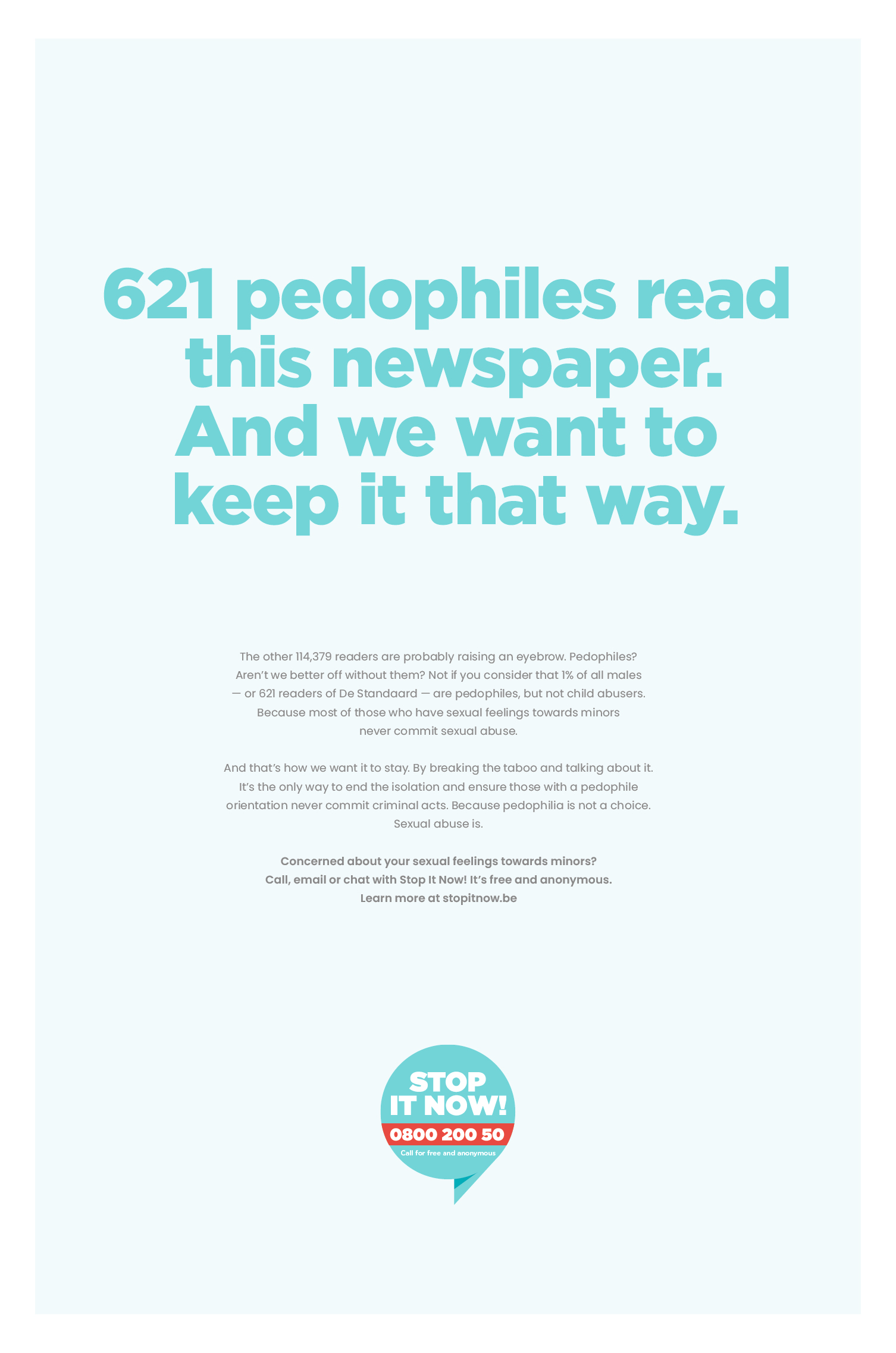 CREDITS:
Agency: Wunderman Thompson Antwerp
Client: Stop it Now!
Client contact: Minne De Boeck
Executive Creative Director: Kristof Snels
Creative Directors: Kasper Janssens, Arjen Tarras
Creative team: Kate Bellefroid, Jolien Tuyteleers
Account team: Emilie van der Meijden
Strategy: Alexander Kolenberg
Design: Bob Goor
DTP: Theo Hagtingius