Ça va, ça va, the new campaign for NN by Wunderman Thompson
Antwerp - 6 February 2023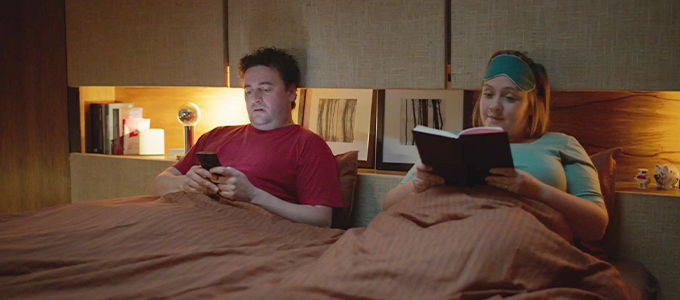 Managing deliveries, paying salaries, finding staff, picking up the children on time and maintaining your social life as well ... it's not always easy to get the balance right as a self-employed person. Even if those around them have long since realised that something is wrong, they still say "ça va, ça va" when you ask them how things are going. Mental health issues are too often a taboo subject amongst entrepreneurs. A taboo that is also perpetuated by the inadequate cover offered by insurers in the event of an inability to work due to mental health problems. ​
NN wants to change this by tackling burnout for self-employed people with extra insurance cover and prevention advice. Under the headline 'happily self-employed', Wunderman Thompson created a campaign that appeals to those around them. Because, as mentioned before, the people around the self-employed are usually the first to realise something is wrong. In a series of videos and animations, the inner voice of the self-employed person takes centre stage. Because sometimes what self-employed people say and what they actually mean is completely different.
More info at nn.be/indépendantheureux.
NN - Radio.wav
WAV - 5.5 Mb
Download
NN - Radio.wav
WAV - 5.5 Mb
Download
---
Agency: Wunderman Thompson Benelux
Client: NN ​
Client Contact: Karlien Van Herck, Annelore Van Herreweghe, Bart Veltjens & Valérie Heremans
Chief Creative Officer: Sandra Bold
Executive Creative Director: Kristof Snels
Creative Director: Merel Van den Broeck
Creation: Jasper Verleije, Sarah Huysmans ​
Copywriter: Jelle Raats, Joeri Quinet, Yves Donceel, Jérôme Van Den Broeck, Yves Cwajgenbaum ​
Design Director: Bob Goor, Fred Lateur
Design: Jeffrey Uten, Sofie Luyckx, Bert Beckers, Marc Dupont, Aldjia Bessalah
Business Director: Emilie Demoor
Strategy Director: Evert Van den Broeck
Strategy: Alexander Kolenberg
Account team: Annelien Theys, Raphael Naudts, Pieter Van Schil, Marine Loontjens
Digital project management: Jens Martens
Development: Sam Serrien, Lieven Eulaers, Joran Schaefer
Motion: Karel Van Gucht
Agency Producers: Tim Keeren, Ingeborg Van Hoof
Sound: Menno Van Riet
Production Company: Bozon