Lunch Garden and Wunderman Thompson launch croquette season
Antwerp, 7 November 2023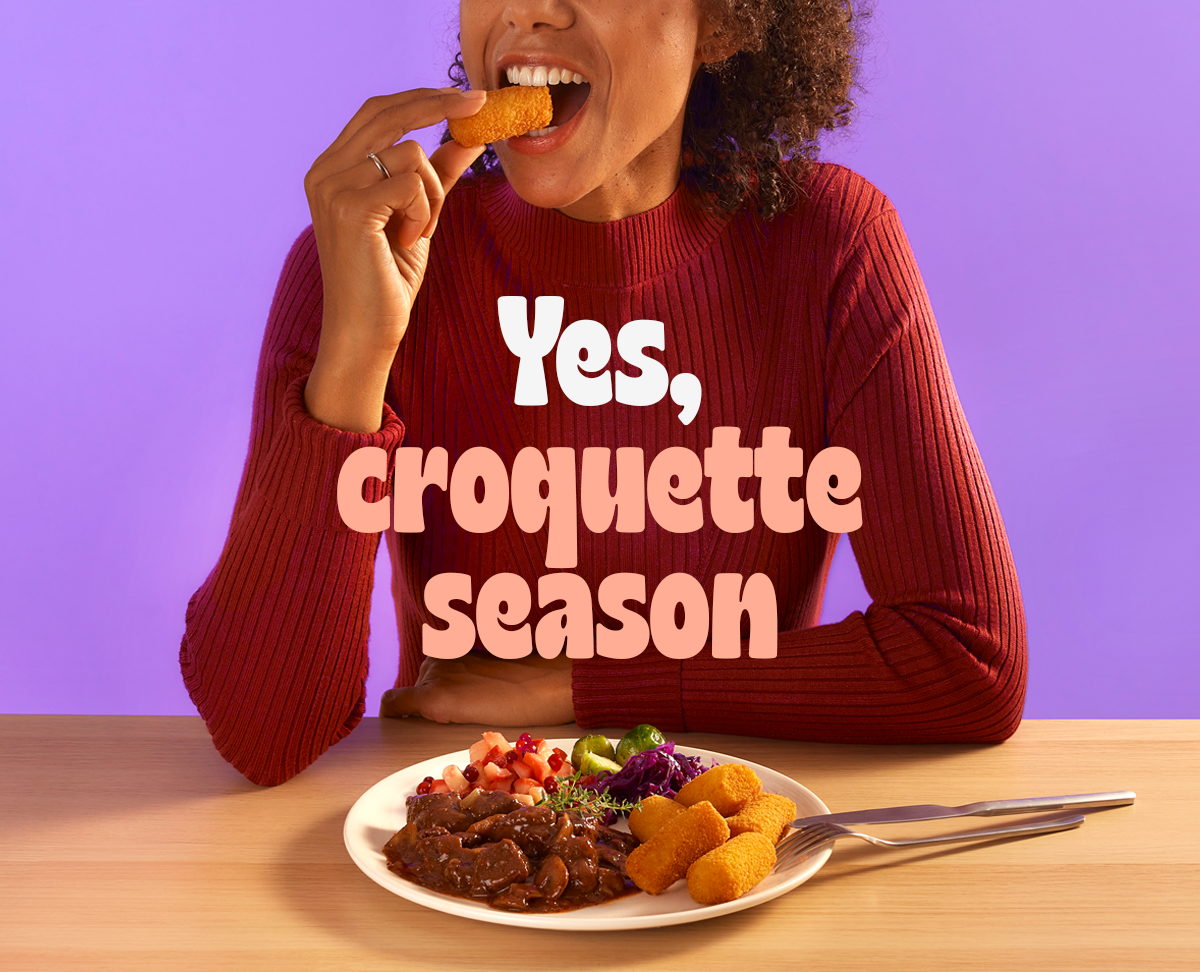 Whoever says end-of-year, says croquettes! No matter whether you prefer to warm up in winter with a vol-au-vent, a stew or meatballs in tomato sauce, one thing is for sure: they just have to be accompanied by delicious golden-brown croquettes. And since they are unlimited at Lunch Garden, the restaurant has now officially declared the croquette season open.
Unlimited croquettes also feature in the new campaign created by Wunderman Thompson, which includes an amusing TV spot in which a family – including a dog – make themselves completely "croquette-proof". Also appearing in online video, social media, digital OOH, banners, POS, the croquettes are stealing the show everywhere.
And for those who really can't get enough, you can not only eat croquettes, but wear them too. The Lunch Garden croquette socks will certainly not look out of place at the next family gathering! These socks are exclusively distributed by influencers to the biggest croquette fans. Is your mouth already watering or do we have to say 'croquettes' one more time? Okay then. Croqueeeetteeees.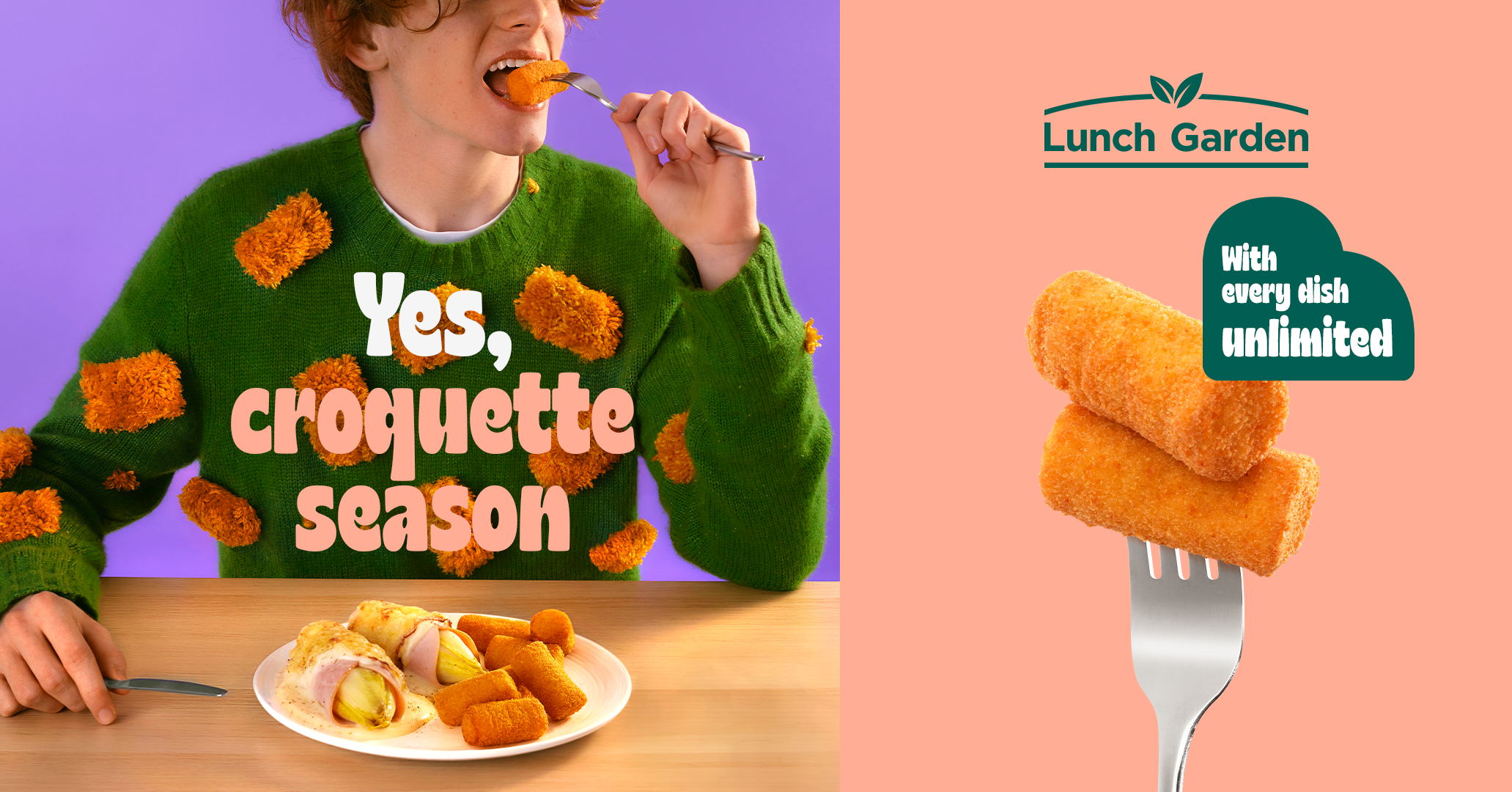 ---
Lunch Garden_OLV_6sec_01_NL.mp4
MP4 - 5.1 Mb
Download
Lunch Garden_OLV_6sec_02_NL.mp4
MP4 - 5.0 Mb
Download
Lunch Garden_OLV_6sec_03_NL.mp4
MP4 - 4.8 Mb
Download
Lunch Garden_DOOH_01_NL.mp4
MP4 - 11 Mb
Download
Lunch Garden_DOOH_02_NL.mp4
MP4 - 11 Mb
Download
---
CREDITS
Agency: Wunderman Thompson Benelux
Client: Lunch Garden
Client contact: Ifke Nauwelaerts, Isabelle Ruytjens, Simon Goossens, Emilie Van Vlasselaer, Laura Geldof
Chief Creative Officer: Klaartje Galle
Executive Creative Directors: Kasper Janssens, Arjen Tarras
Creative team: Kate Bellefroid, Jolien Tuyteleers
Account team: Michelle Stas, Stephanie Romano, Luca Vinck
Strategy Director: Tom Vingerhoets
Design Director: Jeffrey Uten
Designers: Ynje Degraeve, Christophe De Pelsemaker, Alicia Cristo, Anja Van den Broeck
Copywriters: Jelle Raats, Yves Donceel
DTP: Anja Van den Broeck
Motion Designer: Andreas De Ridder, Karel Van Gucht
Agency Production: Tim Keeren, Ingeborg Van Hoof
Sound Design: Menno Van Riet
Production Company: De Machine
Director: Jan Boon
Music: Amp.Amsterdam

​