MediaMarkt and Wunderman Thompson Antwerp innovate with 'The Ad without the Break'
ANTWERP - November 19th, 2019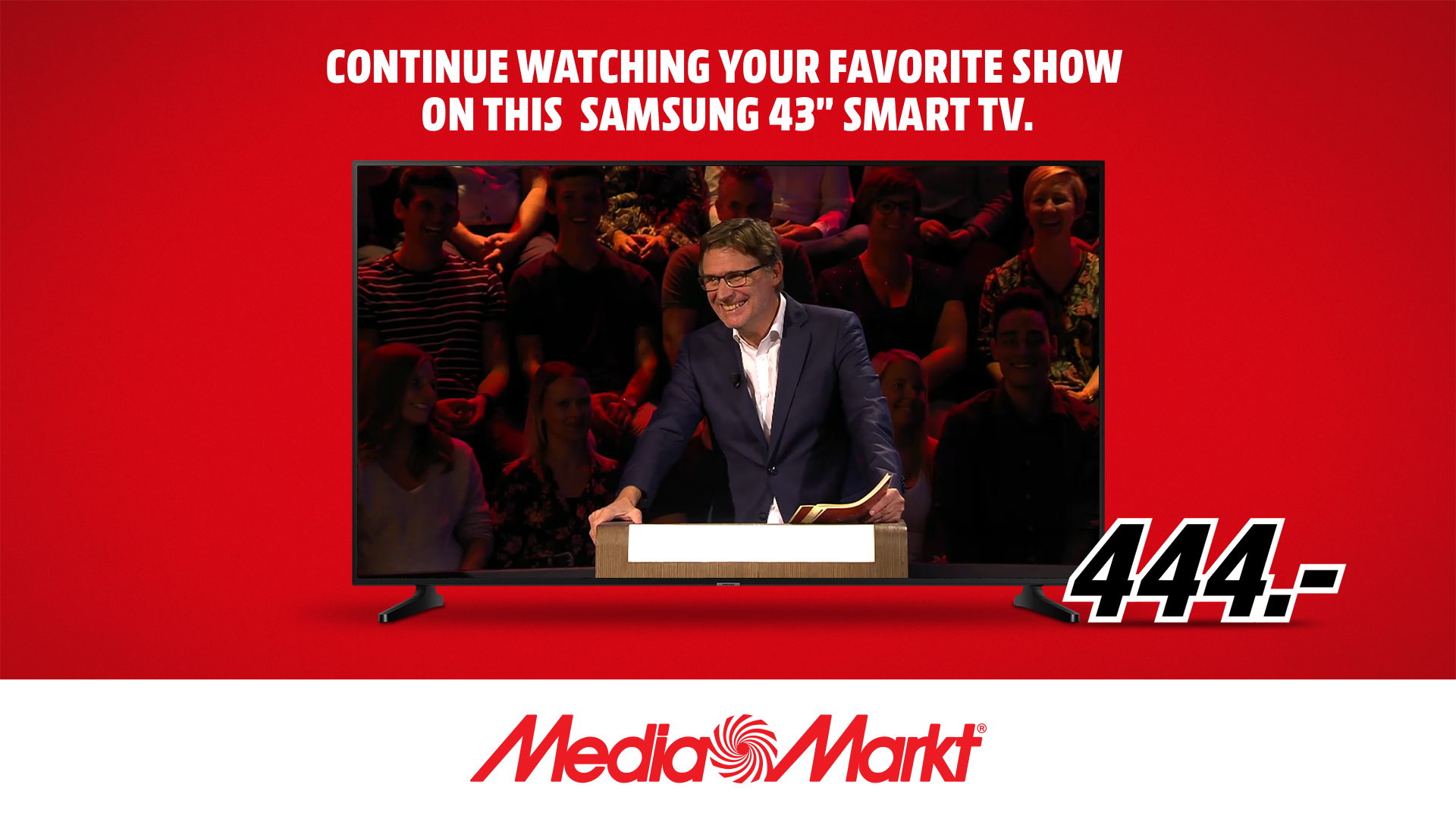 Wunderman Thompson Antwerp has developed a clever new publicity format allowing electronics retailer MediaMarkt to advertise its latest products and promotions in a less intrusive manner. Known as 'The Ad without the Break', this publicity format is introduced during the popular game show 'De Slimste Mens ter Wereld' (The Smartest Person in the World) on VIER.be. 
Commercial break without a break
​Instead of a traditional commercial break, online viewers get to see a video ad allowing them to simply keep watching their favourite programme while the promotion is shown. This means viewers can continue to watch 'De Slimste Mens ter Wereld' on the very latest smart TV or tablet without interruptions. 
Streaming has never been this popular
​With the bulk of viewers switching to streaming services, commercial broadcasters can't afford to stay behind. However, advertising without chasing away viewers remains a challenge. "At SBS we are always looking for innovative ways of bringing brands and consumers together through our content. Break-free ad-breaks are a textbook example of this philosophy", says SBS' Creative Director Steve Brouwers.
 A unique format for promotions
​While promotions are important to major retailers such as MediaMarkt it is not always easy to make those promotions stand out. "Whenever we're developing a campaign for MediaMarkt the creative challenge is to present the retailer and its promotions to the viewers in a fresh, eye-catching way. If in the process we can also invent an entirely novel and less intrusive advertising format then that's a win all around" , states Sam De Volder, Creative Director at Wunderman Thompson Antwerp. 
Innovation for targeted advertising
​Since its new rebranding, MediaMarkt is constantly looking for creative ways to tap into its target audience. "MediaMarkt is a forward-thinking brand and that is why we don't hesitate to integrate innovative concepts into the media mix together with Wunderman Thompson and the media.", concludes Fokke Lowie from MediaMarkt.
CREDITS:
Agency: Wunderman Thompson Antwerp 
Client: MediaMarkt
Client contact: Fokke Lowie, Yannick de Bièvre, Davy Claeys
Creative Directors: Sam De Volder, Pieter Staes, Manuel Ostyn
Creative team: Patrick Vermeylen, Jan Denys, Catherine Hermans
Account team: Tom Thijs, Ena Stevens, Sarah Savoir, Matti Verhaegen
Mediapartner:

Steve Brouwers Creative Director SBS
Elissa Betrains Accountmanager SBS