OVAM and Wunderman Thompson cook with wat-je-nog-liggen-hadGPT 
Antwerp, 2 October 2023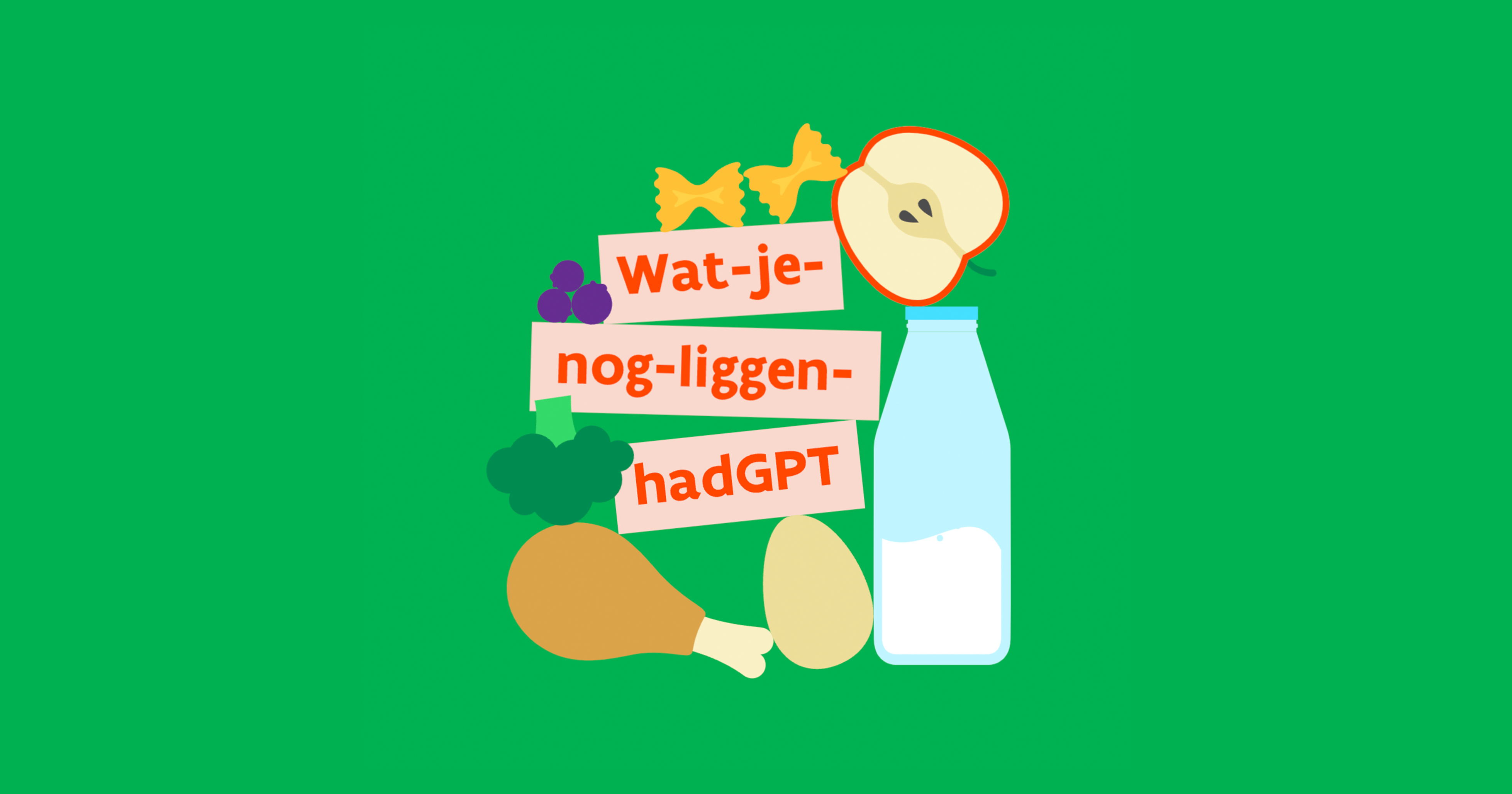 Want to turn yesterday's handful of calamari and half a jar of mascarpone into a meal? Easy-peasy. Wat-je-nog-liggen-hadGPT, a creation by Wunderman Thompson for the Belgian Public Waste Agency (OVAM), cooks up brilliant (sometimes unusual) recipes that mean you'll never have to throw away your leftovers again. 
Have a look at what's in your fridge. Did you know that 30% of all that food ends up in the bin? In Flanders, we waste thousands of tons of food every year simply because we buy too much of it, or don't finish what we've got. On International Food Waste Day, OVAM is launching Wat-je-nog-liggen-hadGPT: an AI tool that creates recipes to use up your leftovers and overripe, half-eaten, or forgotten ingredients. 
Because they are created entirely by AI, all the recipes are unique and sometimes… slightly unusual. That's what you get from a program that's long on ideas but short on taste buds. So while a concoction of chocolate and mayonnaise would certainly surprise your dinner guests, OVAM does expect you to use your common sense. Just to be on the safe side, the tool has been trained not to create dishes with burns cream, or other inedible substances that somehow end up in the pantry. 
 But as everyone knows: with AI, you never know for sure. The campaign, which runs on social media and includes influencers testing the tool, comes with a side order of humor and self-deprecation. The main goal is, of course, to inspire people to waste less food themselves. That's why all clicks lead to dekostwinners.be, a platform created by OVAM and partners that's full of bite-sized tips, honest information, and fresh motivation to tackle food waste together.
https://watjenogliggenhad.dekostwinners.be
OVAM-2300019_Voedselverlies_IG Story_01.mp4
MP4 - 3.7 Mb
Download
OVAM-2300019_Voedselverlies_IG Story_02.mp4
MP4 - 3.3 Mb
Download
OVAM-2300019_Voedselverlies_IG Story_03.mp4
MP4 - 3.3 Mb
Download
OVAM-2300019_Voedselverlies_IG Story_04.mp4
MP4 - 3.7 Mb
Download
---
CREDITS
Agency: Wunderman Thompson Benelux
Client: OVAM
Client contact: Eline Aerts
Chief Creative Officer: Klaartje Galle
Executive Creative Directors: Arjen Tarras, Kasper Janssens
Creative Director: Merel Van den Broeck
Creative team: Kate Bellefroid, Jolien Tuyteleers
Account team: Lotte Huybrechts, Diede Michiels, Barbara Van Duffel
Strategy: Alexander Kolenberg
Design Director: Jeffrey Uten
Design: Alicia Cristo, Sofie Luyckx, Ynje Degraeve
Motion design: Ynje Degraeve
Front-End Developer: Bram Verdyck, Stijn Van Minnebruggen
Creative Technologist: Sam Serrien
Copywriter: Jelle Raats

​