Unique, world-first packaging innovation 't Hoeksche Hoekje can save the world. Of flavor.
Premium potato chips brand Hoeksche Chips from 's-Gravendeel, South Holland, in collaboration with advertising agency Wunderman Thompson, today introduced an innovation in the packaging of their new flavor "Salt & Balsamic vinegar" that the world did not know it was waiting for.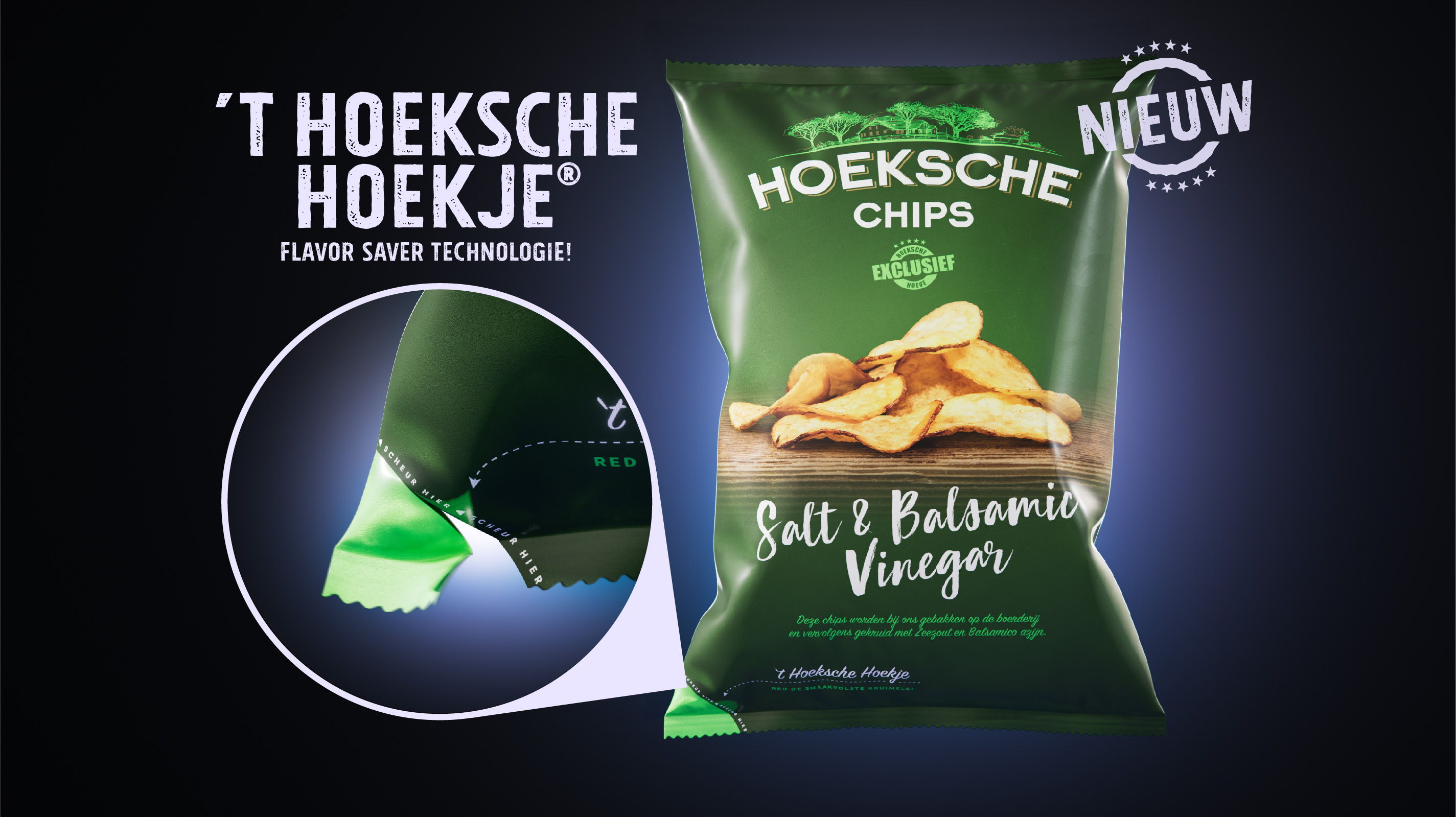 's-Gravendeel / Amsterdam, 19 April 2023
The chips from Hoeksche Chips can be counted among the best in the Netherlands and perhaps far beyond. Entrepreneurs Henk Scheele and Rene de Zeeuw and their team grow, harvest, cut and fry the chips on their farm 'De Hoeksche Hoeve'. Sustainably grown potatoes fried in their skins in the purest sunflower oil and seasoned with a little sea salt or natural herbs. Less fat, less salt and much tastier than ordinary potato chips.
Not surprisingly, together with globally renowned advertising agency Wunderman Thompson and their offices in Atlanta and Amsterdam, they came up with something so that nothing, but nothing of those delicious chips would go to waste. Because for centuries, mankind has been plagued by the problem of crumbs at the bottom of the chip bag. With no way to get them out of the bag without losing your human dignity or, even worse, making a mess on your clothes or the couch.
But so now there is a solution: 't Hoeksche Hoekje. With a simple wave of the hand, the bottom left side of the chip bag can be removed and the last, tastiest crumbs can be conducted directly to hand or mouth without crumb loss. The unique Flavor Saver technology ensures that none of the delicious flavor of Hoeksche Chips is lost.
Try 't Hoeksche Hoekje for yourself. Your chips experience "will never be the same. Hoeksche Chips 'Salt & Balsamic Vinegar' including 't Hoeksche Hoekje is available from today at specialty stores in the Netherlands. For more information, visit www.hoekschechips.nl
"Our focus is entirely on making the very tastiest chips available. Everything has to give way to quality and authenticity. This is probably also why Hoeksche Chips has been the 'chips of choice' for KLM's Business Class for years. But no sooner had we thought about how adapting the packaging could help ensure that none of that quality is lost. For decades, chip bags have not changed substantially. Today that is coming to an end." ​
​- Henk Scheele and Rene de Zeeuw, owners Hoeksche Chips and Farmhouse Chips.
"It is a privilege to work with such passionate entrepreneurs who put so much love and passion into their product. So it is only natural that we have put all our brainpower into ensuring that none of the unique and authentic taste of Hoeksche Chips is lost. This is a great day for chip eaters everywhere." ​
​- Bas Korsten, Global Chief Creative Officer Wunderman Thompson
---
Contact info Hoeksche Chips:
Henk Scheele: 06-22905415
Rene de Zeeuw: 06-83167570
Email: [email protected]
Wunderman Thompson Benelux
Elke Janssens: +32 476 72 85 49
Email: [email protected]
---
About Wunderman Thompson
At Wunderman Thompson we exist to inspire growth for ambitious brands. Part creative agency, part consultancy and part technology company, our experts provide end-to-end capabilities at a global scale to deliver inspiration across the entire brand and customer experience.
For more information, please visit us at www.wundermanthompson.com, subscribe to our newsletter, and follow Wunderman Thompson on our social channels via Twitter, Facebook,LinkedIn, and Instagram. ​ ​ ​
---
CREDITS
Client: Hoeksche Chips
Founder/Managing Director: Henk Scheele
Founder/Managing Director: Rene de Zeeuw
Packing company: Fresh & Pack Services
Sales Director - Niels Kahlmann
CEO - Rob Nijgh
Agency: Wunderman Thompson (Benelux + Atlanta)
Global Chief Creative Officer – Bas Korsten
Benelux Chief Creative Officer – Sandra Bold
Atlanta Executive Creative Director – Jared Kozel
Atlanta Associate Creative Director ​ – Ransom Haywood
Atlanta Associate Creative Director – Fallon Parker
Benelux Head of Design / Sr. Art Director – Tunchan Kalkan
Atlanta Project Manager – Min Yoo
Atlanta Production Manager - Stacey Amos
Benelux PR – Elke Janssens
US PR – Rebecca Sullivan
Global PR – Emilie Sharp
Production company: Nosh Food Films
Executive Producer - Anne Greeve
Producer - Tom Plinsinga
Regisseur - Jordy Tempelman
DOP - Levien Priem
1st AC - Maxime van Erp
Gaffer - Christian van Marle
Best Boy - Joep Fransen
Setdresser - Cecile Hanrath
Production Assistant - Martijn Pekel
Production Assistant - Bram Goossens
Post production company: Volstok
Post Production and vfx: Volstok
Executive producer: Johanna Keppens
Post-producer: Mirjam De Vreese and Sarah Verhofstadt
Editor: Pierre Mailly
Grading: Joost Vandekerckhove
Vfx: Matthias Muer
---
DOWNLOADABLE ASSETS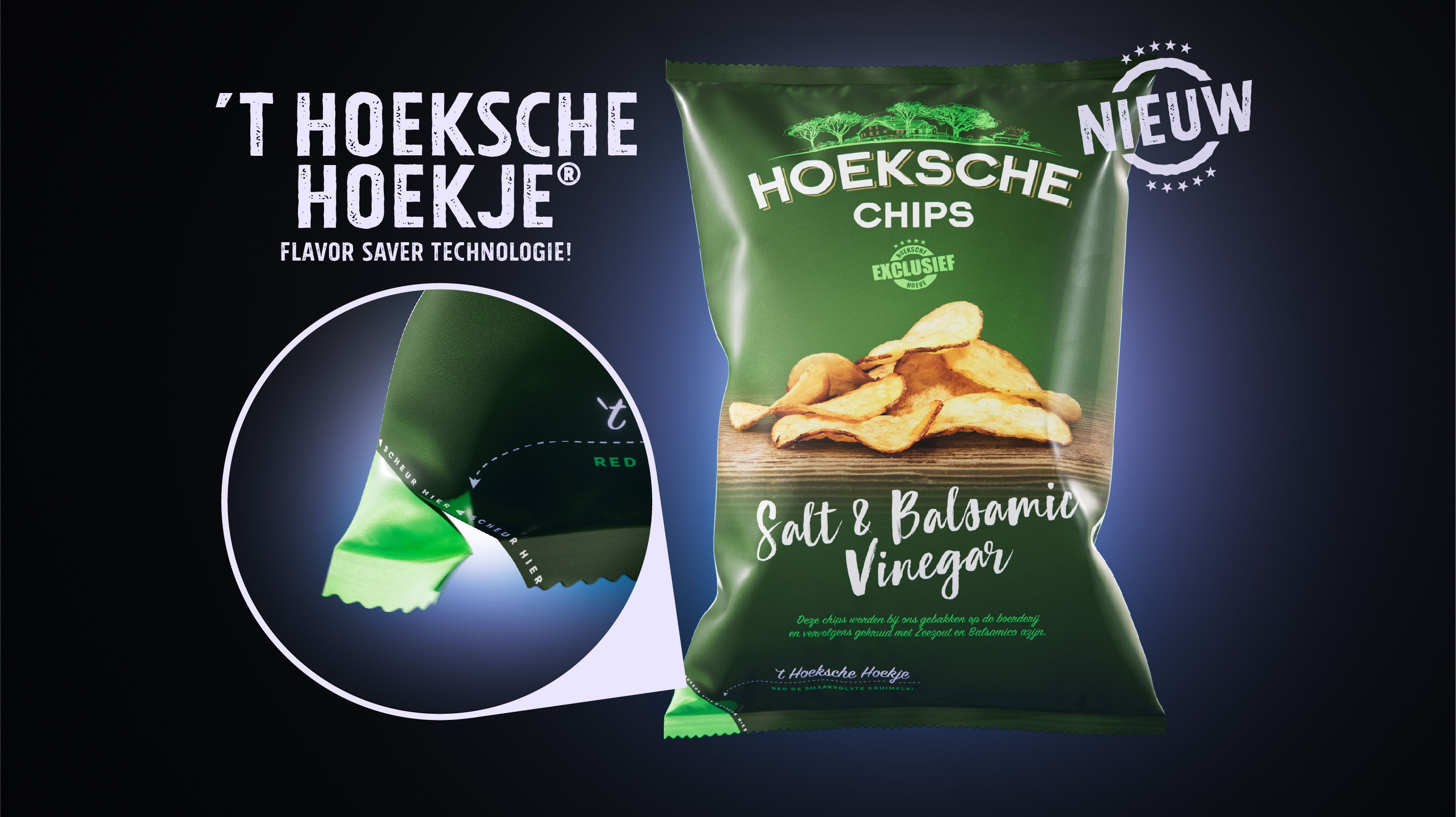 FLAVOR SAVOR_HOEKSCHE HOEKJE_HOEKSCHE_CHIPS_1920x1080_NL_60.mp4
MP4 - 117 Mb
Download
FLAVOR SAVOR_HOEKSCHE_CHIPS_1x1_NL_20SEC.mp4
MP4 - 69 Mb
Download
FLAVOR SAVOR_HOEKSCHE_CHIPS_4x5_NL_20SEC.mp4
MP4 - 62 Mb
Download
FLAVOR SAVOR_HOEKSCHE_CHIPS_9x16_NL_20SEC.mp4
MP4 - 71 Mb
Download