Wunderman Thompson & 11.11.11 'hack' eco-cheques to support victims of climate change
Antwerp, 25 October 2023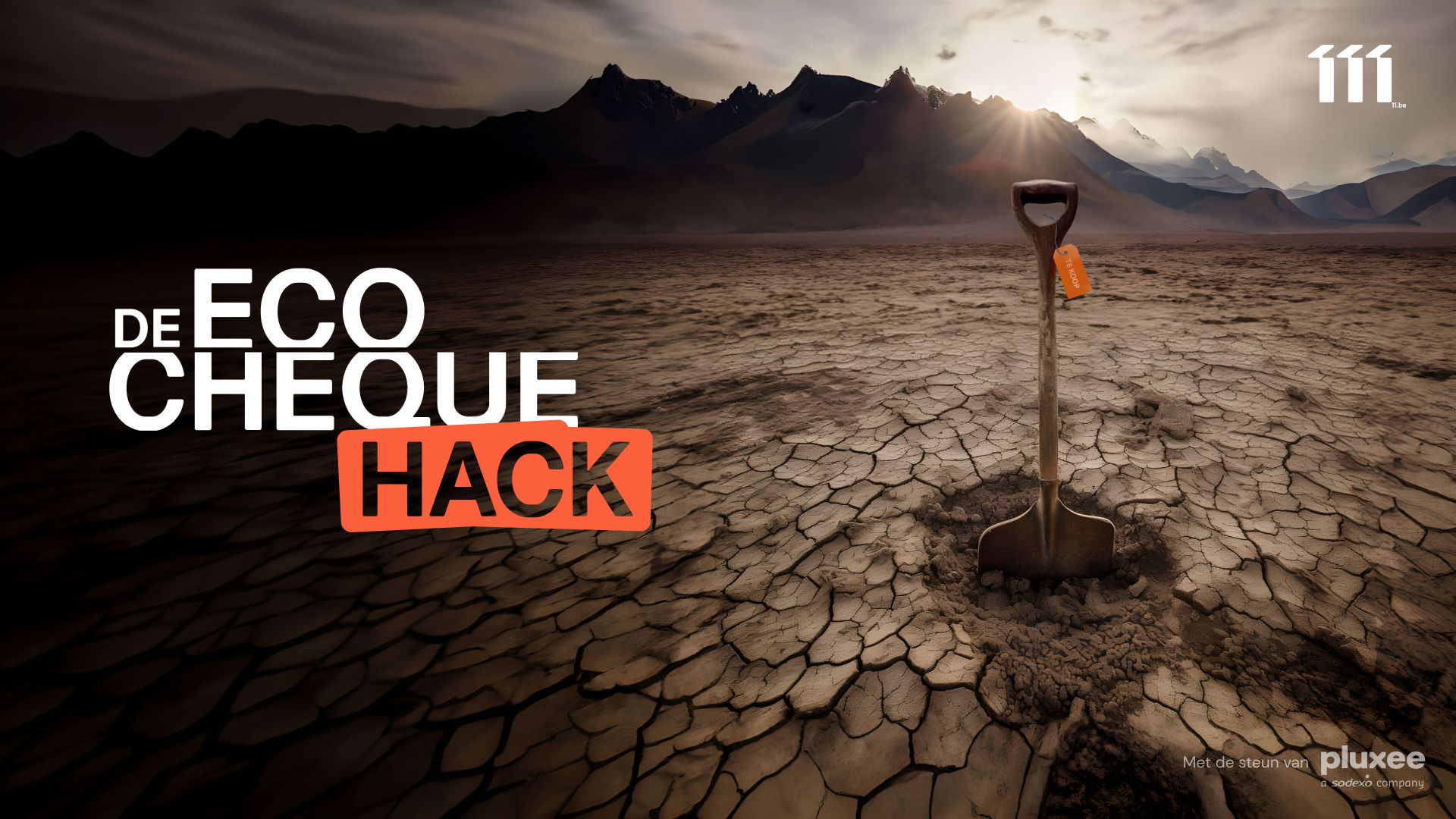 Climate injustice is quietly making its way onto the political agenda. At the same time however, another 'injustice' is causing victims to miss out on support, because, strangely but true, eco-cheques cannot be used to support ecological charities like 11.11.11! So Wunderman Thompson came up with a creative solution to get around the regulations.
Eco-cheques from Pluxee (formerly known as Sodexo) are an extra-legal financial benefit of up to 250 euros. Employees can use these to buy certain ecological products and services, as defined in a list by the National Labour Council. Strangely, 'support for an ecological charity' is not one of them. ​ 
Second-hand web shop circumvents eco-cheque policy in favour of climate protection 
Wunderman Thompson has found a loophole: second-hand goods can legally be paid for with eco-cheques! They therefore put 8 useless products from people affected by climate injustice in their virtual shop window. Second-hand stuff, in other words. A shovel from Peru, a market stall from Uganda, to – and a little closer to home – a letterbox from Pepinster. 
ELS HERTOGEN, managing director of 11.11.11: "Eco-cheques can be used for many ecological products and services, but not to address ecological impacts. We think this is a shame. Fortunately, the regulations do allow us to buy second-hand stuff. And we have lots of those, from people who have had to flee their homes due to climate disasters, to work utensils from farmers in arid areas. The income from these items is being used to help climate victims." 
In the webshop, people can (symbolically) buy one of the second-hand items. In reality, however, they are secretly donating the amount of their purchase to the owners: the affected climate victims. Because behind each item is a real and poignant story of climate change. ​ 
The campaign will be officially launched with a striking launch event at the Grand Bazar in Antwerp, where one of the eye-catchers from the webshop will be put on public display by 11.11.11 and Pluxee. Via the payment terminal next to the display case, shoppers can immediately make a gift – uhm – purchase. The promotion will also be supported by ads on social media offering the selection of second-hand products. 
First stone of a new eco-cheque policy 
In the first place, this campaign generates an additional form of (eco)logical fundraising for 11.11.11. 
But in addition, Wunderman Thompson also wants to use it to challenge the Belgian government and ensure that it adapts its eco-cheque policy. So that in the end, it will become legally possible to tackle climate injustice using eco-cheques. 
SVEN MARINUS, country CEO of Pluxee, Belgium: "We were immediately charmed by this initiative and were therefore keen to make it happen. It is a clever idea, but rather unfortunate that it has been necessary to find a workaround to this problem. We hope it will not just stop at this webshop, and that in the future, people will be able to support these charities via eco-cheques, or even legally use other types of cheques. People don't always use their cheques in full or have no immediate idea where to spend their cheques. This can be a solution. In this way, we ensure that people can spend their cheques in a valuable way." 
Make a difference yourself with your eco-cheques on ecochequehack.be and support the fight against climate injustice. 
Social ad.mp4
MP4 - 12 Mb
Download
---
CREDITS
Client: 11.11.11 
Contact: Tama D'Haen, Katrien Heughebaert 
Campaign Partner: Pluxee
Agency: Wunderman Thompson Benelux 
Chief Creative Officer: Klaartje Galle 
Executive Creative Directors: Arjen Tarras, Kasper Janssens 
Creatives: Sarah Huysmans, Jasper Verleije, Noa Luiten 
Account Director: Tine Van Hasselt 
Account Managers: Lotte Munnik, Laura Naeyaert, Julie Meirlaen
Strategy Director: Evert Van den Broeck 
Strategic Planner: Nic Van den Heuvel ​ 
Design: Jorg Meyer, Sofie Luyckx 
DTP: Anja Van den Broeck 
Copywriters: Tom de Block, Tim Happaerts, Lynn Pinsart
Development: Stijn Van Minnebruggen, Sam Serrien, Bram Verdyck 
UX: Evaline Hagen, Laura Falorni 
Motion Design: Andreas De Ridder, Bert Beckers 
Production: Evelyn Twadrous 
Sound Design: Menno Van Riet 
Event partner: BUTIK