Wunderman Thompson & IranDC ​ make history with A.IRAN
Antwerp, 13 April 2023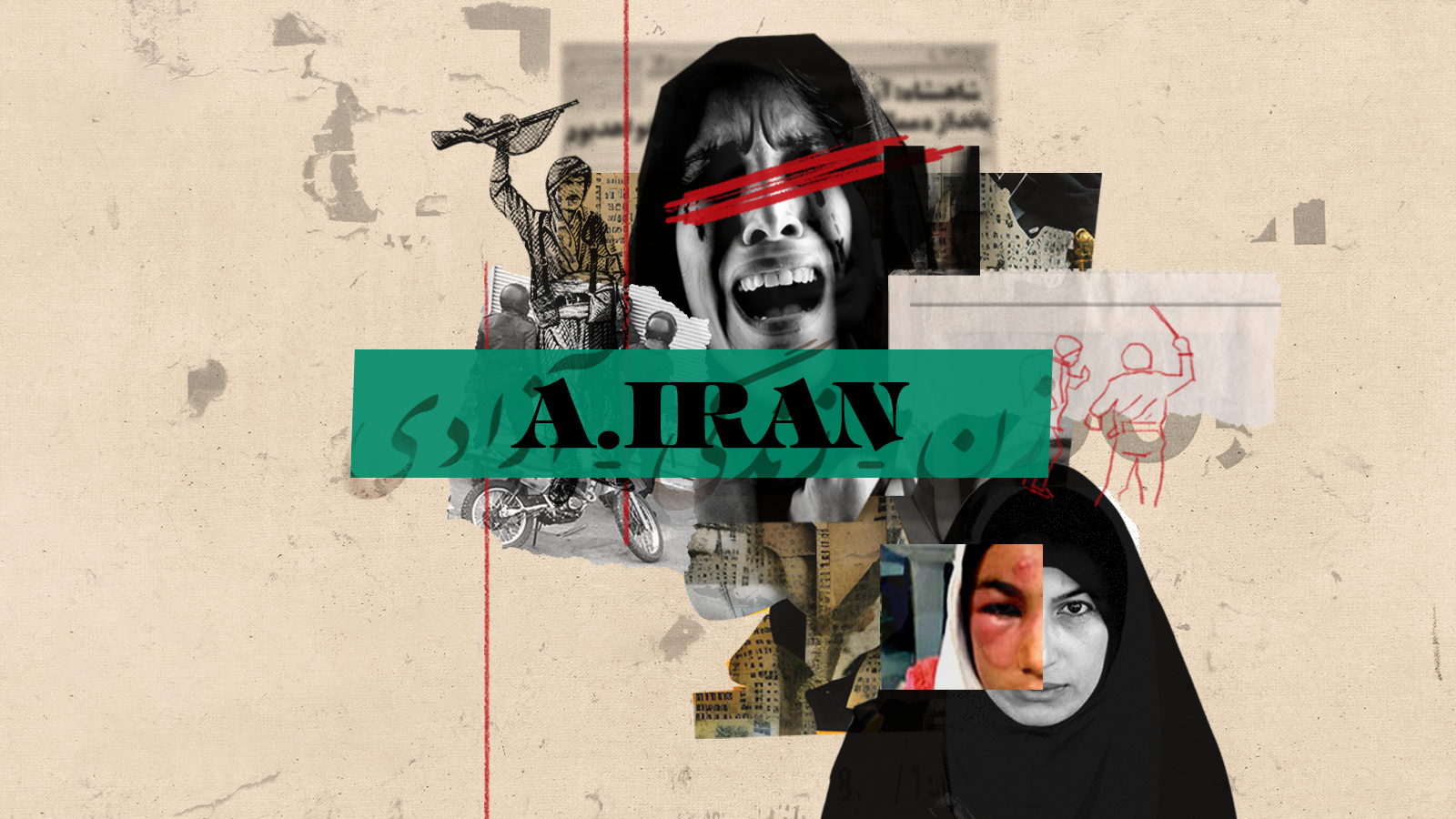 Since the death of Mahsa Amini and the ignited protests in Iran, women's rights are still being heavily violated every day. Iranian women face severe oppression, including being forced to wear a hijab, discriminatory laws, and the prohibition of many basic human rights, such as riding a bike or entering a stadium. And the situation only seems to worsen… This is what sparked a noble idea at Wunderman Thompson Benelux. In partnership with the Iran Democracy Council, the joined Wunderman Thompson forces of Benelux, Seattle & London created A.IRAN: a future history book about women in Iran, written today by AI.
Using GPT-3/4 and Generative Art/Video, Wunderman Thompson creative technologists trained an AI model on the events in Iran today and in recent history under the current theocratic regime – and the future it predicts for 2026 continues to be bleak.
A.IRAN, a digital 20k+ word book, explores aspects such as the right to education, participation in arts and culture, and representation in politics, assuming nothing changes and we remain silent.
Your actions impact the future
The point – we don't have to stay silent. At RewriteIran.com, readers can dive into the A.IRAN book and directly experience how their actions can rewrite the future. Sharing, donating or volunteering has a direct impact on the algorithm and thus on the story written by the AI. Readers see the book's content change right in front of their eyes. The innovative platform shows how every step in the right direction can literally rewrite a country's future. When a reader clicks on the take action icon, they are presented with different opportunities to help the present situation. If they agree to act, the book rewrites itself based on the action and the content and images in the "book from the future" become more hopeful.
"Through these pages, you will glimpse into the world of women in Iran who are willing to sacrifice everything for their rights, freedom, and dignity," says Sara Seyed, Actor, Director, and Human Rights Lawyer connected with Iran Democracy Council. "This effort forces us to think about our collective responsibility and power to effect change."
The images for the book and the video teaser are built entirely from an AI's point of view.Future events are fictitious but are built based on current events in Iran.
Jason Carmel, Global Lead of Wunderman Thompson's Creative Group, said, "This book demonstrates the power of AI as a tool in the hands of activists and creators. A.IRAN is something that could only be written by an AI, yet could not have happened without the writers, technologists, and advocates wielding this technology with a very human purpose."
A.IRAN launched on April 11th. The Iran Democracy Council is working with influencers across social media to encourage followers to visit RewriteIran.com and take action to help re-write history. Look for the hashtags #rewriteiran #iranrevolution #AI and join in the movement.
About Iran Democracy Council ​
​​
​The Iran Democracy Council is led by a group of Iran-born and first-generation Iranian American women with over 25 years of combined experience in human rights, sanctions, public policy, public health, media, and crisis. ​
​​
​Our work spans across two key central pillars: to create the broadest possible coalition of Iranians and non-Iranians, and to draft, inform, educate, and advocate for public policy and legislation that materially support the Iranian people in their pursuit of a representative, secular government. 
A.IRAN 15s.mp4
MP4 - 24 Mb
Download
A.IRAN 65s.mp4
MP4 - 205 Mb
Download
---
CONTACT Wunderman Thompson Benelux
Elke Janssens: +32 476 72 85 49
Email: [email protected]
---
About Wunderman Thompson
At Wunderman Thompson we exist to inspire growth for ambitious brands. Part creative agency, part consultancy and part technology company, our experts provide end-to-end capabilities at a global scale to deliver inspiration across the entire brand and customer experience.
For more information, please visit us at www.wundermanthompson.com, subscribe to our newsletter, and follow Wunderman Thompson on our social channels via Twitter, Facebook,LinkedIn, and Instagram. ​ ​ ​
---
CREDITS
Client Name: The Iran Democracy Council
Agency: ​ Wunderman Thompson
Lead office WT BeNeLux
Supporting offices: WT Seattle, WT London
Core Team: Wunderman Thompson
Global Chief Creative Officer: Bas Korsten
Chief Creative Officer: ​ Sandra Bold
Global Lead, Creative Data: Jason Carmel
Experience Technology Director: Shawn Herron
Creative Director(s): Arjen Tarras, Matt Gilmore, Kasper Janssens, Kristof Snels
Director, Technology: Cole Peterson
Sr Analyst, Data Science: Caroline Buck
Director, Data Science: Ilinca Barsan
Creatives: Sarah Huysmans, Jasper Verleije
Copywriter: Lynn Pinsart
Designers: Tom Besters, Sofie Luyckx, Bert Beckers
Strategy Director: Jo Weston
Chief Executive Officer: Sasan Saeidi
Client Manager: Pieter Van Schil
Group Account Director: Atash Hall
Program Manager: Sofie Laeremans

​Client Credits: Iran Democracy Council
Sara Seyed: Founding Member
Shay Soroush: Founding Member
Azadeh Meshkaty: Founding Member
Elika Eftekhari: Founding Member
Pearl Servat: Founding Member