Wunderman Thompson & MIRUM launch in Belgium
Wunderman Antwerp and Wunderman Brussels to become Wunderman Thompson Belgium. J. Walter Thompson Brussels to become MIRUM Belgium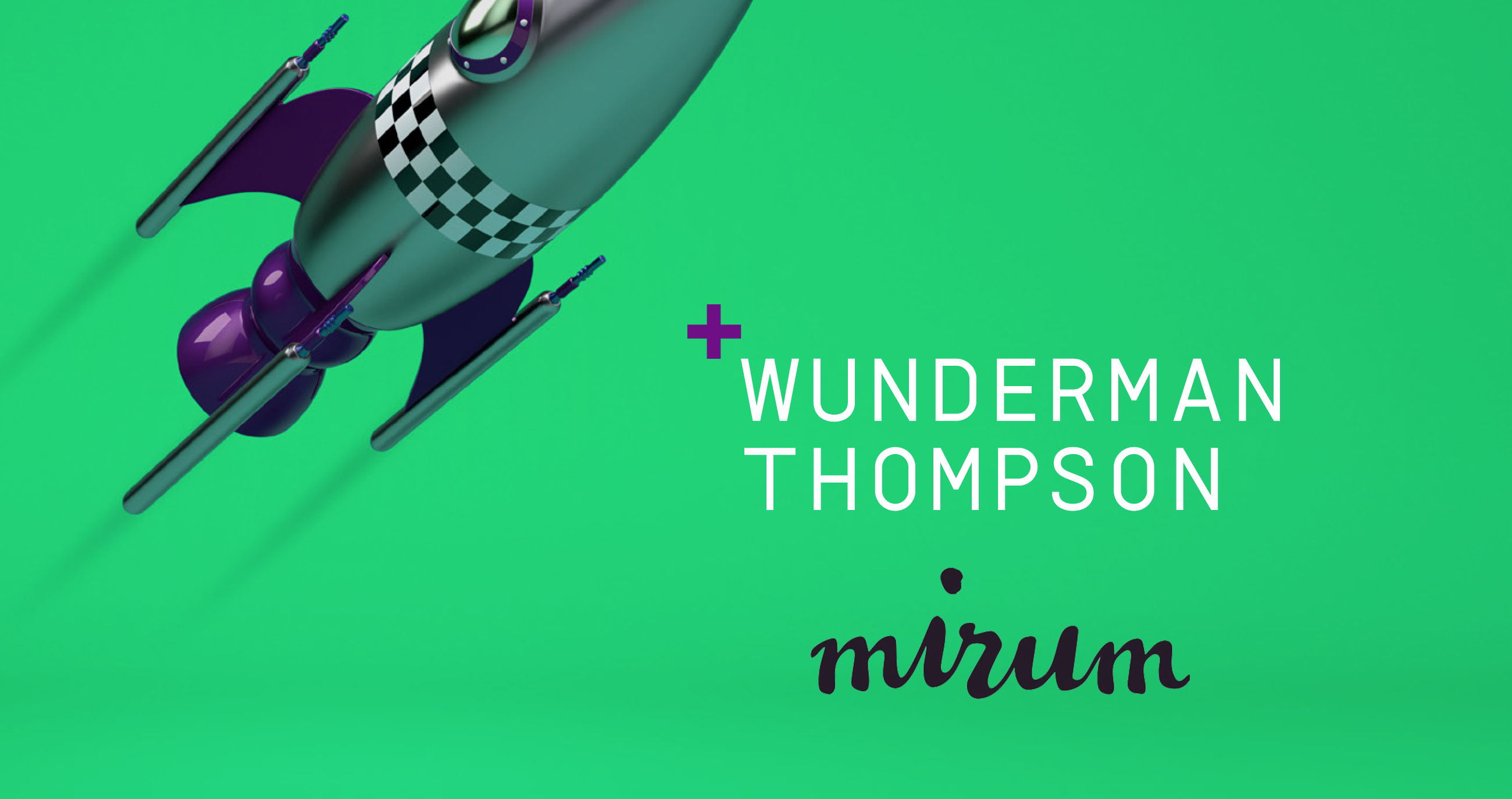 ANTWERP, BRUSSELS – April 26th, 2019
Following the global merger of Wunderman and J. Walter Thompson earlier this year, today marks the official launch of Wunderman Thompson Belgium and MIRUM Belgium. Wunderman Antwerp and Wunderman Brussels will operate under one umbrella: Wunderman Thompson Belgium, while former J. Walter Thompson Brussels is changing its name to MIRUM Belgium. Each office is keeping its own culture, people, clients and market positioning while benefiting from the synergy and partnership of the group.
Co-CEO Gio Canini, Wunderman Thompson Belgium, on the group structure: "Looking at client needs, market opportunities, the DNA of the offices and the wishes of our talent, we decided to bring Wunderman Antwerp and Wunderman Brussels under one umbrella, Wunderman Thompson Belgium, and align the JWT Brussels office with JWT's agency network, MIRUM. Headed by Toon Diependaele, the Wunderman Thompson office in Brussels will further develop its capabilities in the areas of CRM, data, digital transformation and digital experiences whereas the Wunderman Thompson Office in Antwerp will extend its capabilities in brand building, campaigning and experiences. We now have the most elaborate geographical and services footprint of any agency in Belgium as well as the momentum to put Belgium on the international map – both within the Wunderman Thompson network and beyond. We're upbeat about the future and are looking forward to growing together."
Co-CEO Erwin Jansen, Wunderman Thompson Belgium, on the Wunderman Thompson approach: "Wunderman Thompson is a creative data and technology agency, established to inspire growth. Growth is a force for good and has never been more necessary. Inspiring growth takes three things: 1. the ability to see the world differently and reject conventional thinking; 2. an unrestricted definition of creativity that rethinks business, culture and brand experiences; 3. the ability to act decisively and accountably, owning delivery from end to end. With a global reach of more than 20,000 people and a local team of well over 200 people, we work with ambitious brands both on a global and local scale, supporting them across communications, experiences and platforms."
CEO David Grunewald, MIRUM Belgium: "This International merger translates into a genuine local opportunity for both our clients and our teams. We benefit from the best of both worlds by being part of a stronger group with interactions and services-sharing when needed, while retaining our autonomy in the management of our clients, the new business and our staff. I'm proud of what we achieved in four years at J. Walter Thompson Brussels, investing in new talent, winning great new business converted into strong partnerships and diversifying to more digital and social services. Meanwhile I'm also excited to rebrand our agency "MIRUM" and introduce a new dynamic that allows a face-lifting of our 40-people integrated agency, giving it a stronger focus on data and strategic analysis to better influence our creative solutions. MIRUM Belgium is joining an existing network of 2,500 brand and business transformers across 25 countries united by a unique drive to make 'the next big thing'. I'm looking forward to benefit from these new network dynamics and turn MIRUM Belgium into an 'amazing*' agency.
​*MIRUM means amazing in Latin.
For your information: MIRUM is a second agency-network within Wunderman Thompson, worldwide across 25 countries.
ABOUT MIRUM Belgium
MIRUM Belgium is an integrated agency that blends advertising creativity with content strategy, social storytelling and funnel conversion. We believe in the power of synergy between a team of generalists and specialists together with the client team to create efficient and unexpected solutions. MIRIUM is an agency of 40 brand and business transformers whose client portfolio includes Beobank, ŠKODA, VELUX, The European Commission, Total Gas & Power, Brico, Somatoline, Rio Mare, Borotalco, Vanceva, Campari Group, Panasonic, Wondercar, Equilis, Puratos. ​
​MIRUM is headed by David Grunewald (CEO MIRUM Belgium). Besides Wunderman Thompson group, Xavier Bouillon (CD) and David Grunewald (CEO) remain shareholders of MIRUM agency.
Press Contact MIRUM Belgium:
​David Grunewald – [email protected]
​+32 (0)475 91 25 25