Wunderman Thompson & Samsonite launch new 2019 global campaign "Born to Go"
ANTWERP - May 15th, 2019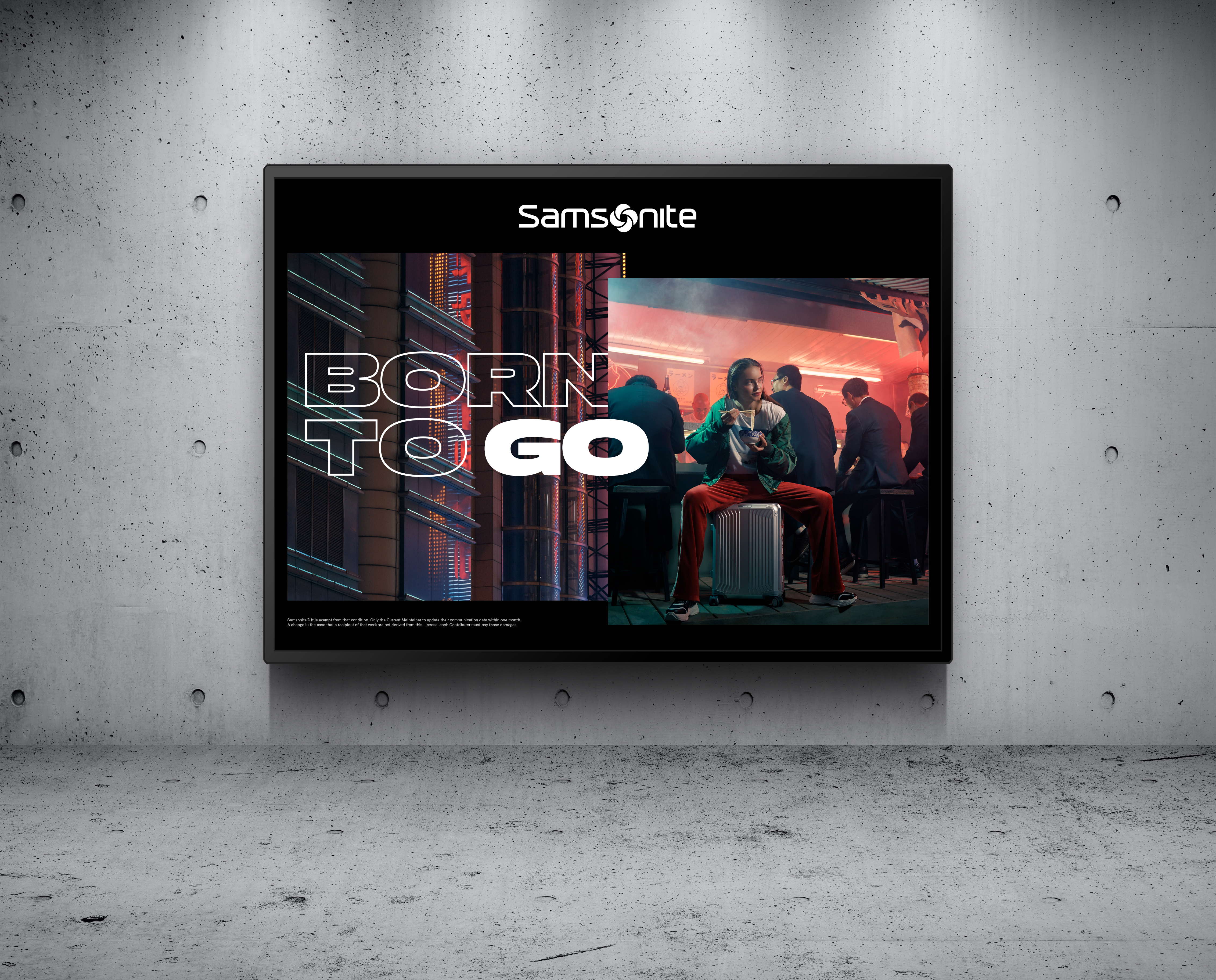 Samsonite has just launched its first global integrated advertising campaign "Born to Go", created by Wunderman Thompson Belgium. The campaign marks a new brand identity for the world-renowned travel brand. As the slogan reveals, the campaign celebrates a growing 'on the go' mindset where people want to be able to go anywhere, anytime. In a time where the world has become one global hub with big cities exerting an unstoppable, magnetizing attraction on travellers and commuters alike, Samsonite steps up and presents itself as the go to brand for people on the move. Samsonite is ready to go, what about you? 
Born to Go
Gone are the days of rootedness to one place. There is a socio-cultural shift occurring, fuelled by a new concept of global citizenship. Driven by the desire of today's urban nomad generation to see more and do more, international travellers are looking for authentic experiences, seeking out ways to get under the skin of the cities they visit and reside in by fully submerging themselves in the urban adventure. Today, travelling is about much more than taking a big trip few times a year, it's about a new mindset of continually moving and roaming across cities all over the world. Our life is about being on the go.
Addressing the desires of today's highly mobile and experience-craving young urban nomads, Samsonite and Wunderman Thompson Belgium developed a new brand positioning: 'Samsonite is born to go because you are'. The campaign narrative is inspired by Samsonite's commitment to create smart, durable and lightweight on the go solutions for purposeful travellers and commuters, says Lotte De Vreese, General Manager Samsonite Travel Europe. Since its creation, innovation has been an integral part of Samsonite's DNA, creating luggage and bags that are designed to keep you going and lighten your travels. Because nothing should stop you from going and discovering this exciting world.
The campaign sees its protagonists – people with a millennial mindset – on various urban journeys in the city from AM to PM, supported in their commuting endeavours by their Samsonite bag. Various collections are featured, all of which are part of the brand's 2019 FW assortment. From the latest innovative and durable suitcase collections, such as Lite-Box Aluminium, to smart cases and backpacks with built-in USB charging ports for him and her. Discover the "Born to Go" campaign video here.
A Global Brand Story 
"As Samsonite wanted to rejuvenate its global brand image without losing touch of its heritage, authenticity and drive for innovation, Wunderman Thompson Belgium worked on a way to tell the global brand story by leveraging one of the brand's strongest characteristics: innovation," says An Van den Cruyce, Chief Commercial Officer at Wunderman Thompson Belgium. "We're proud of our partnership with this global, energetic brand and of the opportunity we, as an agency, had to push ourselves both strategically and creatively to new borders." Along with the brand story, came a new visual identity and a global campaign toolkit. 
The global "Born to Go" campaign toolkit consists of ​ both film and photography. The brand video ​ brings a mix of urban life and rough nature themes and was shot in metropoles Buenos Aires, Bangkok and Cape Town. The film will be aired globally, in regions Asia, Europe, North-America and Latin-America. It was made in collaboration with Hamlet, a creative production company and Ben Strebel, a multi-awarded director of music videos, content, fiction and commercials. 
The campaign also features photography by renowned UK based photographer Olly Burn and production company Making Pictures. The shots were taken on location in real, urban settings, during different parts of the day or night and in diverse weather conditions. These too, will be spread globally in all regions and will mainly be used for print, outdoor, instore and online media. 
What the future brings
The future holds several exciting follow-ups such as global on- and offline activations, a retail strategy, an international influencer strategy and a translation to digital and social of the new brand story. Exciting times are ahead, are you ready to take off with us? 
Samsonite_Wunderman_PR_G.mp4
MP4 - 12 Mb
Download
Samsonite_Wunderman_PR_H.mp4
MP4 - 19 Mb
Download
Samsonite_Wunderman_PR_J.mp4
MP4 - 12 Mb
Download
 CREDITS
Client: Samsonite

Marketing & Communication team: Lotte De Vreese, Alessandra Madonia, Faten Abchaoui
​

Creative Agency: Wunderman Thompson Antwerp, Belgium

Creative direction: Pieter Staes, Manuel Ostyn
Creative team: Kate Bellefroid, Jolien Tuyteleers
Account team: Mieke Moortgat, Valentine Reuse, An Van den Cruyce
Audiovisual producers: Caroline Van Ranst, Ingeborg Van Hoof, Bruno Dejonghe
Strategy: Tom Vingerhoets, Kevin Schröder
Design Director: Sebastien Greffe, Jo Van Grinderbeek ​ ​ ​ ​ ​ ​ ​ ​ ​ ​ 
Design team: Inge Vanhees, Virginie Rosseel
DTP team: Theo Hagtingius, Anja Van Den Broeck
Motion design: Matthias Berghmans, Mikael Naudet
PR: Lieselot Moerkerke
​

Film production Company: ​ HAMLET Brussels, Belgium

Director: Ben Strebel
Producer: Sophie Brooks
Executive Producers: Ruben Goots, Jason Felstead, Thomas Hofman
Post-Producer: Dominique Ruys
Director of Photography: Ben Todd
Music Composer: Willem Claesen ​ ​ ​ 
Editor: Phil Currie
Editorial Company: Stitch Editing, London
Sound Design & Music: Sonhouse, Brussels
Color Grader: Luke Morrison
VFX Company: ETC, London
VFX Supervisor: Ally Burnett
​

Photographer's agent & Production Company: Making Pictures, London, UK

Photographer: Olly Burn
Local Production company in Cape Town: Nomad Productions
Local Production company in Shanghai: Bloc Productions
Post Production company: The Forge

Font design: Noël Leu, Thierry Blancpain for Grilli type, Luzern - Switzerland ​ ​ ​ ​ ​ ​ ​ ​ ​ ​ ​ ​ ​ ​ ​ ​ ​ ​ ​ ​ ​ ​ ​ ​ ​ ​ ​ ​ ​ ​ ​ ​ ​ ​ ​ ​ ​ ​ ​ ​ ​ ​ ​ ​ ​  ​ ​ ​ ​ ​ ​ ​ ​ ​ ​ ​ ​ ​ ​ ​ ​ ​ ​ ​ ​ ​ ​ ​ ​ ​ ​ ​ ​ ​ ​ 
Reactive typo design: Anthony Velen, Kenny Brandenberger, Vevey - Switzerland
​
ABOUT SAMSONITE
Founded in 1910, Samsonite is the world's leading luggage brand with an extensive legacy in trendsetting travel solutions. Renowned for breakthrough research, development and its commitment to innovation, Samsonite has excelled since its inception in a number of industry firsts in the luggage arena. Samsonite offers an extensive range of travel, business, kids, casual and personal accessory products. Samsonite helps travelers journey further, with ever-lighter and stronger products. ​ 
Press Contact Samsonite Europe: Julie Verbruggen – [email protected]