Wunderman Thompson and Child Focus double-check the age of escorts.
Antwerp - December 2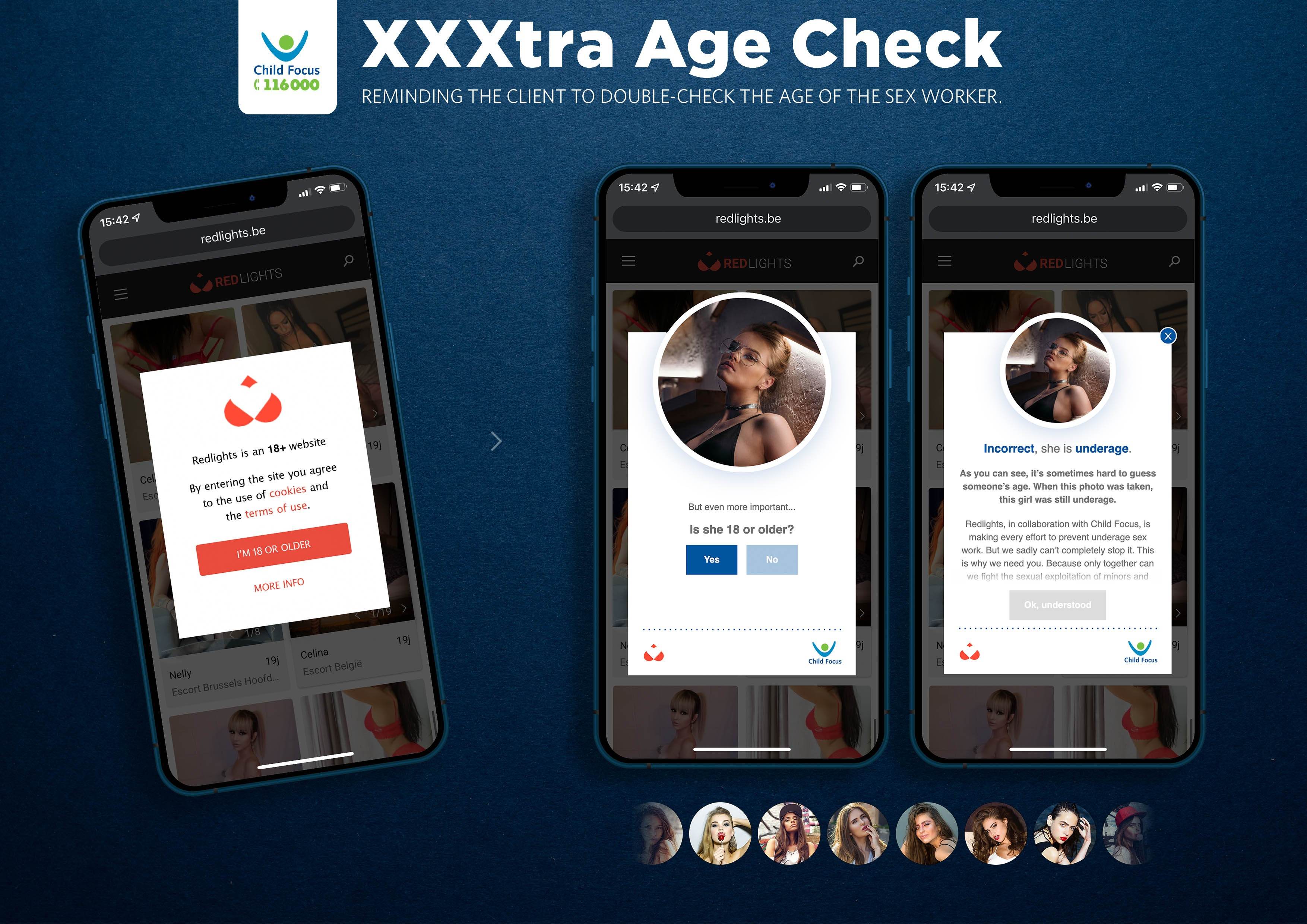 Child Focus and Wunderman Thompson Antwerp together continue to fight against the sexual exploitation of children. This year they want to draw attention to the problem of minors on escort websites. Although these sites always make a selection to exclude underage sex workers, they can't unfortunately 100% stop this. The correct age is sometimes very difficult to estimate and it happens that an advert slips through the net and a minor is presented as an adult.
This led to a new and unique collaboration between Child Focus and Redlights.be, Belgium's largest escort site, resulting in a campaign aimed at its visitors. They can contribute to the fight against sexual exploitation of minors by always actively asking themselves if their sex worker is of age. In addition, they can also be punished without being aware of it if they don't check.
This is why Wunderman Thompson came up with the "XXXtra Age Check." An extra addition to the age verification that you must complete on every escort site before you can continue your visit. After indicating, as a visitor, whether you are 18 or older, you see a second pop-up, now with the question, "But even more important, is she 18 or older?" With a picture of a minor or adult girl. It's up to the visitor to correctly estimate the age and discover that it's anything but obvious.
With the "quiz" presented at each visit, it quickly becomes apparent that it is sometimes difficult to know if a sex worker is of age or not. An idea that visitors should always keep in mind when looking for an escort. That's why they are advised to always double-check their age and ask for proof of identity if they have any doubts. Through this pop-up, you can also click on an online form to anonymously report a minor in a prostitution situation.
The XXXtra Age Check has been launched not only on redlights.be, but also on its French-speaking counterpart quartier-rouge.be. Together they represent some 152,000 unique visitors per day. And thanks to the close collaboration between Child Focus and various international partners, the awareness tool has also been made available to escort sites around the world.
And since the phenomenon of underage sex workers also operates on social media and even spiked during the lockdown, influencers like Jill Cnudde, Lott Merry and Joyce Godefridixwere also called upon. With a photo from their past, they themselves tested their followers via an Instagram poll in their Stories. Once again, this showed how difficult it is to assess whether a person is of age or not.
XXXtra Age Check ENG demo.mp4
MP4 - 17 Mb
Download
Credits

​Agency: Wunderman Thompson Antwerp
​Client: Child Focus
​Client contact: Stephan Smets, Stephanie Leyn, Sofia Mahjoub
​Partner: Redlights
​Partner contact: Joachim Meyts
​Creative Directors: Manuel Ostyn, Pieter Staes
​Creative team: Kasper Janssens, Arjen Tarras
​Copywriter FR: Yves Donceel
​Copywriter ENG: James Ugbaghs
​Strategy: Alexander Kolenberg
​Account Directors: Barbara Van Duffel, Femke Sermeus
​Accounts: Charlotte Feremans, Diede Michiels, Emilie van der Meijden
​Design: Kenny Smet, Reginald Van de Velde
​Development: Bram Verdyck, Veerle Struyf, Sam Serrien, Giele Cools
​Digital Project Manager: Sarah Vermylen