Wunderman Thompson and Lunch Garden bring Belgian classics from the radio to your plate
Antwerp - 17 January 2023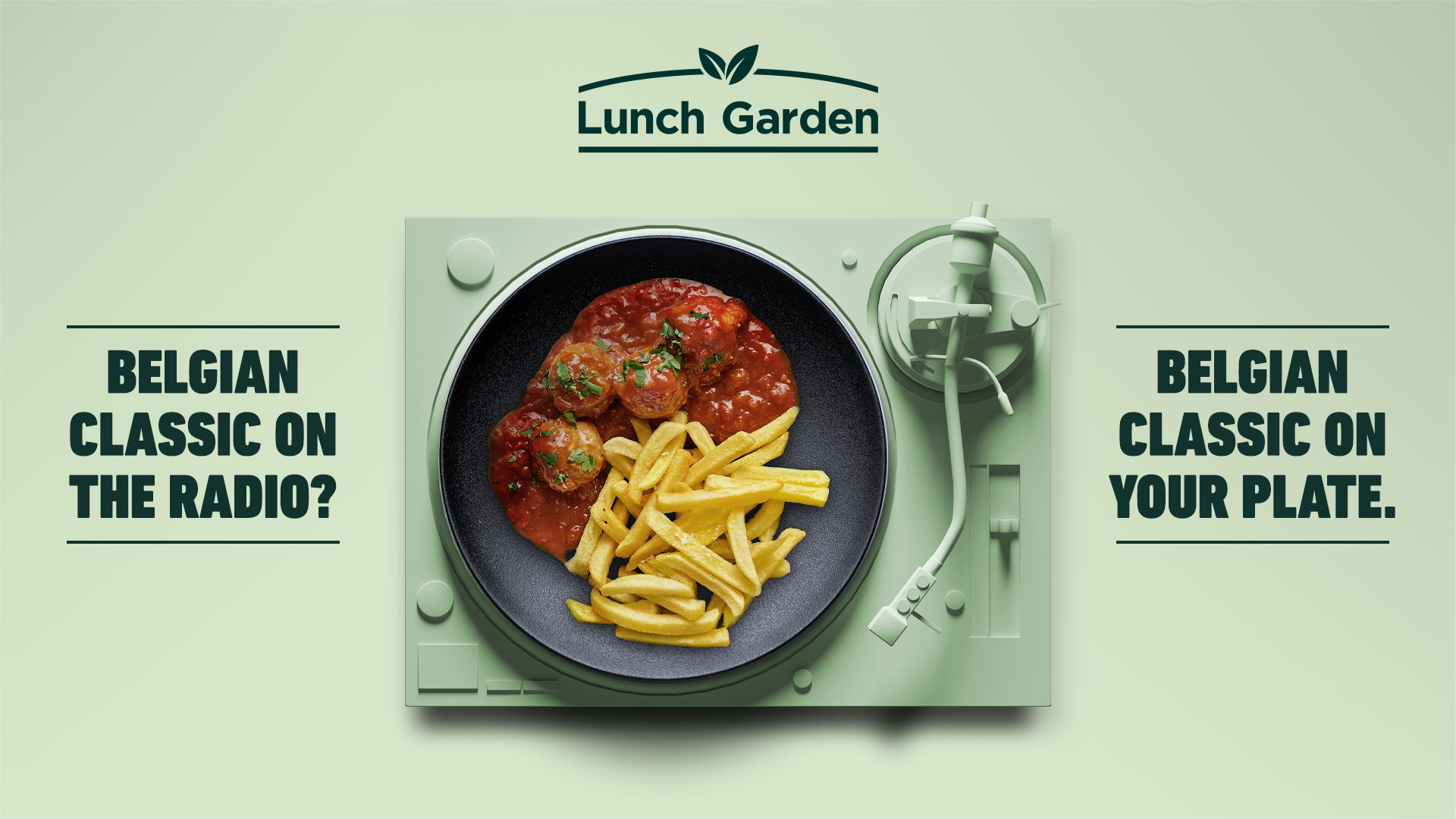 Whenever a Belgian classic is played on the radio, Lunch Garden — a chain of Belgian self-service restaurants — will offer a tasty discount on its own Belgian classics. With this promotional activation, Wunderman Thompson is transforming classic songs into a reason to enjoy a classic and tasty meal at Lunch Garden.
Life is good when there is stew, vol-au-vent and meatballs in tomato sauce! And so Wunderman Thompson compiled a list of French- and Dutch-language songs that are part of Belgium's collective memory. As soon as one of those songs is played on the radio, customers get a nice discount on Belgian classics at Lunch Garden.
The country's 17 best-known radio stations will be monitored to see when the chosen classic songs are played. Whenever there is a match to Lunch Garden's playlist, the campaign website will spin a classic as well, a classic dish! And as longs as the song is playing, customers will have the opportunity to download a discount voucher.
The promotion, to be announced on social media and via digital out of home, will see Belgian classic dishes and Belgian classic songs coming together, so expect to see Eddy Bally in tomato sauce, sea steak with Wim Soutartare, and Jo Val-ly-vent or another special mix.
---
Lunch Garden - Social EN.mp4
MP4 - 13 Mb
Download
Credits
Client: Lunch Garden
Contact: Pieter Boudry, Simon Goossens, Emily Van Vlasselaer, Isabelle Ruytjens
Agency: Wunderman Thompson Antwerp
Executive Creative Director: Kristof Snels
Creative Directors: Kasper Janssens, Arjen Tarras
Account team: Laura Naeyaert, Julie Meirlaen, Dorien Van Antwerpen
Creation: Tomas Van Loon, Patrick Vermeylen
Design Director: Bob Goor, Tom Besters
Design: Aldjia Bessalah, Alicia Cristo, Han Vandeputte
Copywriter: Jelle Raats, Yves Donceel
Strategy: Maryse van Van Kerkhoven, Evert Van den Broeck
Digital project management: Jens Martens
Development: Sam Serrien, Giele Cools, Joran Schaefer, Bram Verdyck
Producer: Tim Keeren
Analytics: Koen Speelmeijer
Motion: Andreas De Ridder