Wunderman Thompson makes sexting safer for Telenet
ANTWERP – November 25th, 2019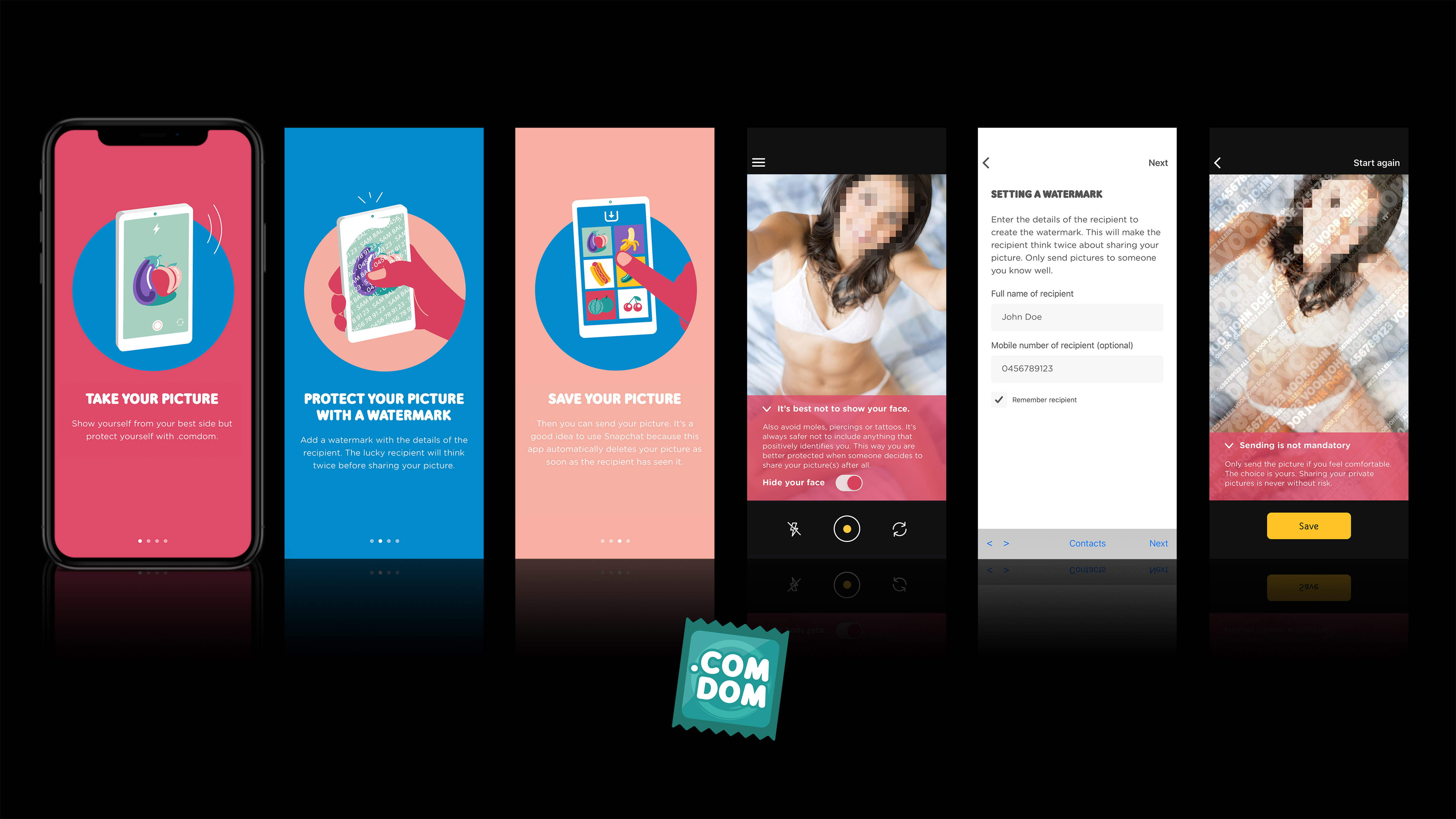 So there you are, butt naked all over the internet. Simply because you once sent a naked picture to a lover whose adoration turned to anger. To keep this from happening Wunderman and Belgian telco Telenet developed the .comdom app, a 'digital condom' to make sexting safer. The app adds a watermark to your pictures containing the details of the recipient. This way the lucky one will think twice before sharing your private pictures online.
In addition to the watermark the app also includes other functionalities that make sexting safer. For instance, the app recognises faces and blurs them automatically. Moreover, you can add video filters to make your pictures more exciting while at the same time making it much harder to take full screenshots.
Two target groups were involved in introducing the app to the general public. The first are young people, the most avid sexters. They were shown several fun videos on Instagram and YouTube in which a young man and a woman proudly tell us how they sometimes share pictures of their own peach and aubergine with their partner. Adults are the second group and they receive additional information on Facebook about the hot topic that sexting is these days.
More and more young people engage in sexting and even though there's nothing wrong with that, the consequences of abuse can be serious. That is why Child Focus, the Foundation for Missing and Sexually Exploited Children, offers extra support for the app. They act as an expertise centre for youngsters with questions or problems surrounding sexting.
After the Phub'd app, the .comdom app is the second application to be launched as part of #TelenetGo. "With the .comdom app we aim to take our responsibility as a company to help people manage their screens in a smarter way. It's an amazing experience to be able to work with a creative agency that challenges us every step of the way. For a provider it's no simple matter to broach such a sensitive issue as sexting. Right off the bat we were convinced that this app was the way to go. How can you be anything but enthusiastic about a solution that makes sexting safer?", says ​ Lisa Dewinter, Marketing Communications Manager at Telenet. In the future more solutions will be introduced that contribute to our digital welfare. Read all about it at telenetgo.be.
Download the app for free at comdom.be.
CREDITS
Agency: Wunderman Thompson Belgium
Client: Telenet
Contact: Nathalie Rahbani, Lisa Dewinter, Marijke Vissers, Isabelle Moens, Fabienne Beckers, Alexander Bekaert, Bob Lepoutre
Creative Directors: Pieter Staes, Manuel Ostyn
Creative team: Kasper Janssens, Arjen Tarras
Copywriter: Tomas Van Loon, Jérôme Van Den Broeck
Design Directors: Jo Van Grinderbeek, Sebastien Greffe
Designers: Kenny Smet, Inge Vanhees, Virginie Rosseel, Charlotte Slegers, Reginald Van de Velde, Nathalie Wlostowski, Irina Bogdan, Ynje Degraeve
DTP: Jan-Bart Debruyne ​ ​ ​ ​ ​ ​ ​ ​ ​ ​ ​ ​ ​ ​ ​ ​ ​ ​ ​ ​ ​ ​ ​ ​ ​ ​ ​ ​ ​ ​ ​ ​ ​ ​ ​ ​ ​ ​ ​ ​ ​ ​ ​ ​ ​ ​ ​ ​ ​ ​ ​ ​ ​ ​ ​ ​ ​ ​ ​ ​ ​ ​ ​ ​ ​ ​ ​ ​ ​ ​ ​ ​ ​ ​ ​ ​ ​ ​ ​ ​ ​ ​ ​ ​ ​ ​ ​ ​ ​ ​ ​ ​ ​ ​ ​ ​ ​ 
Motion Designers: Matthias Berghmans, Bert Beckers
Strategy: Tom Vingerhoets, Joyce Poelmans, Michelle Defooz, Erik De Rijdt
Account team: Charlotte Feremans, Sabrina Janssen, Femke Sermeus
Social: Delphine Gillain, Olivier Verhellen, Pim Smeets, Robbin de Waij, Mike Dobbelaere, Dieneke Van Gerrewey
Producers: Ingeborg Van Hoof, Amélie Van Campen, Jonathan Kauffmann
Digital Experts: Aslican Aydin, Stijn Janssens, Jorg Meyer, Jeroen Michiels, Giele Cools, Veerle Struyf, Joren Van Hocht, Lieven Eulaers 
App Development Company: App Foundry 
Editors: Karel Van Gucht, Christoph Boost
Sound: Menno Van Riet
DOP: Pieter Neirynck